On March 31, 2021, Professor Hong Zhao, Deputy Director of Hepatobiliary Surgery at Cancer Hospital of Chinese Academy of Medical Sciences, and some other outstanding young and middle-aged experts had an in-depth discussion with Aaron Ciechanover, the 2004 Nobel Laureate in Chemistry, and his team on basic medical research and how to transform it into clinical practice. Professor Jianqiang Cai, Vice Director of National Cancer Center/Vice President of Cancer Hospital of Chinese Academy of Medical Sciences, attended the conference and gave welcoming remarks.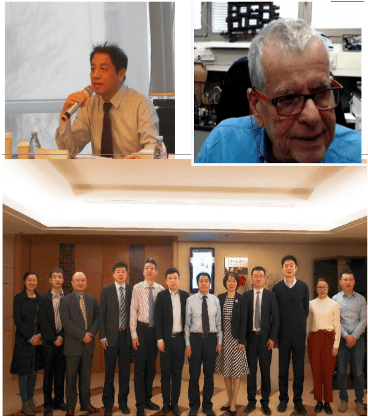 About Professor Aaron Ciechanover: Professor Aaron Ciechanover is a well-known Israeli biochemist who was awarded the Nobel Prize in Chemistry in 2004 for his discovery of ubiquitin-regulated protein degradation. He was also elected as a foreign academician of the US National Academy of Sciences, a foreign academician of the US National Academy of Medicine, a foreign academician of the US Academy of Arts and Sciences, an academician of the Israel Academy of Humanities and Natural Sciences, a foreign academician of the Chinese Academy of Sciences, and an honorary professor of the Chinese Academy of Medical Sciences. Professor Ciechanover has profound knowledge in basic biochemistry research and has been working on clinical applications of basic research resulting in significant contributions to translational medicine research. Professor Ciechanover has a deep friendship with China and has long been interested in the development of scientific research in China. He has visited China more than one hundred and fifty times and established close cooperation with multiple Chinese scientists. Professor Ciechanover has served as a visiting professor and advisor to several institutions in China and has worked with Chinese research institutions to train students as he continually contributes to education and research in China.
About the Cancer Hospital of Medical Sciences: The experts from the Cancer Hospital of Medical Sciences that participated in the dialogue cover the diagnosis and treatment of several major solid tumors including digestive system oncology, urological system oncology, respiratory system oncology and breast cancer. Their multidisciplinary comprehensive treatment (MDT) team of digestive tract oncology is the leader in China in the fields of liver cancer, colorectal cancer liver metastasis and neuroendocrine tumors. The team has had success with 46.4% of patients with liver metastases from colorectal cancer and 68% of patients with liver cancer having a five-year survival rate after surgery which is comparable advanced international levels. In addition, the team is also affiliated with the Key Laboratory of Gastrointestinal Oncology Drug Gene Editing Screening and R&D of the Chinese Academy of Medical Sciences. This affiliation has produced numerous basic and clinical studies and is a force in translational medicine. The purpose of the online interaction was to promote the exchange and cooperation between two top teams in China and abroad.
During the online discussion, Professor Ciechanover introduced his research experience and the specifics about training for a Doctor of Medicine (M.D.) and a Doctor of Science (PH.D.) in Israel. In addition, he summarized the research and clinical overview of the School of Medicine of the Technion-Israel Institute of Technology and the research progress and results of his group. Finally, he praised China for its success in fighting epidemics. Soon after, Ruth Perets of Rambam Hospital, the largest hospital in northern Israel, presented the process and specifications for Phase I clinical studies in Israel. Next, Professor Hong Zhao, Deputy Director of Hepatobiliary Surgery, Professor Yuchen Jiao, Key Laboratory and Professor Aiping Zhou, Deputy Director of Internal Medicine of the team of the Cancer Hospital of Chinese Academy of Medical Sciences, gave an overview and latest progress of their work in clinical treatment, basic research and clinical research. Professor Ciechanover spoke highly of the achievements of his Chinese counterparts, repeatedly saying that they exceeded expectations and expressed his intention to cooperate further. In a follow-up closed-door discussion, Professor Ciechanover presented his further research based on the Nobel Prize winning work, demonstrating a mechanism, preliminary drug design and results of cytological zoological experiments with possible application to anti-cancer therapy. The two sides had a lively discussion on the potential mechanism and how to formulate the drug for solid tumor treatment. Both sides affirmed their desire to begin cooperation and the exchange well received by all.
Professors Hong Zhao, Aiping Zhou and Yuchen Jiao share an overview of their team's work and latest progress
Other participants in the discussion included experts from Cancer Hospital of Chinese Academy of Medical Sciences, such as Professor Jianzhong Shou, Deputy Director of Urology Department, Professor Fei Ma, Deputy Director of Internal Medicine Department, Professor Yu Tang, Director of GCP Office and Professor Xingang Bi of the Urology Department.
This discussion panel was organized by RunYoung Investment and Healthcare Drinks. As an emerging investment team, RunYoung Investment focuses generally on leading-edge basic academic research and to obtain technology patents and introduce them into China to help propel China's innovative scientific research forward. RunYoung has been following Professor Ciechanover's projects and facilitated this exchange following its investment in hopes that the effort will lead to accelerated landing of the advanced technologies to China.
With the capital and resources needed to promote the development of China's medical technology, RunYoung Investment will organize monthly dialogues with Healthcare Drinks to open a window of communication between domestic and foreign research professors, provide opportunities for cooperation within the industry, explore the best path of technology transformation, and promote the bright future of China's medical technology industry. We will continue to focus on innovative technologies around the world and look forward to more partners joining us in our journey.