On the morning of July 10, 2020, the Signing Ceremony of the West Tai Lake Medical Innovation Projects of Sino-Israeli Cooperation was held at West Tai Lake Medical Technology International Innovation Center in Changzhou. City leaders including Yibo Liang, Zhiliang Chen, Jianzhong Xue, park leaders including Zhihua Dai, Weifeng Wu, Chunying Xu, Yanhong Hu, Huiliang Zhang attended the event. During the proceedings, Weifeng Wu, Director of Changzhou West Tai Lake Science and Technology Industrial Park Management Committee and Roger Lu, Chairman of Changzhou RunYoung Technology Transfer Co., Ltd. gave key insights and laid out the underlying strategy of the West Tai Lake Park and Sino-Israeli Cooperated RunYoung technology transfer platform to the guests.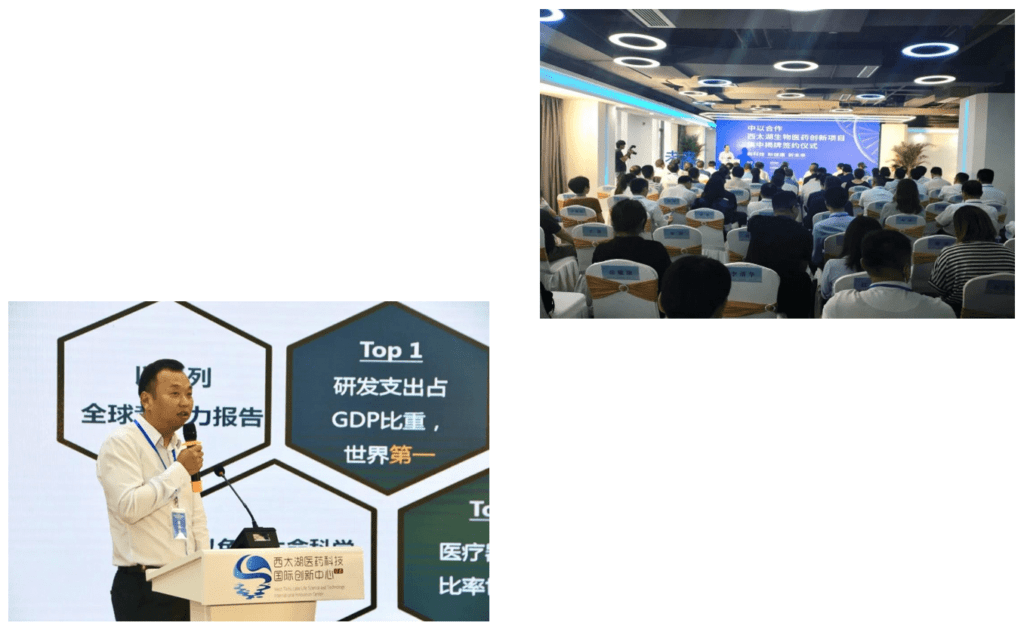 At the signing ceremony, four Sino-Israeli cooperative innovation and entrepreneurship platforms were unveiled including the Changzhou West Tai Lake Medical Technology International Innovation Center, the Life and Health Technology Research Center of Jiangsu Sino-Israeli Industrial Technology Research Institute, the Changzhou RunYoung Technology Transfer Center and the Jiangsu West Tai Lake Sino-Israeli Biomedical Research Institute.
Centralized Contract Settlement
The BRAINQ electroencephalography rehabilitation system, the VESSL vascular regeneration therapy, the LIFT acute respiratory distress syndrome drug delivery device and an age-related macular degeneration (AMD) therapeutic drug were the four Sino-Israeli technology transfer cooperation projects signed at the event. Bairen Medical Animal Source Implant Medical Devices, Jitai Technology Artificial Total Knee Joint Implant, Jieduo Medical Artificial Intelligence Technology Customized Osteotomy Guides and the Aose medical device testing laboratory are four key medical device projects signed at the event. In addition, the Changchuang Investment Innovation and Entrepreneurship Service Platform West Tai Lake Center signed a contract and settled in West Tai Lake Park. After the signing ceremony there were roadshow presentations done for four projects: BRAINQ, VESSL, LIFT and the AMD project. The event was capped off with a lively panel discussion.

The formal unveiling and signing of this series of innovation platforms and projects represented by the Sino-Israeli West Tai Lake Life and Health Technology Research Center and the West Tai Lake International Innovation Center for Medical Science and Technology is a new beginning for Sino-Israeli cooperation. This day marks the beginning for new breakthroughs, the acceleration of imported technologies, the construction of an innovation ecosystem, the strengthening of international cooperation, the promotion of the integrated development of health manufacturing and health services, and the creation of a new growth area for the development of the West Taihu Lake health industry.
July 10th, 2020